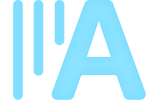 Text conversion
Converting audio tracks into editable text
With 2REC, you'll be able to transform your voice messages into written text, for over 50 languages, and without length limits. Rather awesome, isn't it? The conversion feature is very useful for instances in which you're momentarily unable to listen to the audio note. For example, in a public place, or at work.
Furthermore, once transcribed, if the message features any important information, you can easily locate it and isolate it. 2REC allows you to edit the text and keep it together with the audio track, or to copy it wherever needed: in messages, notes, emails.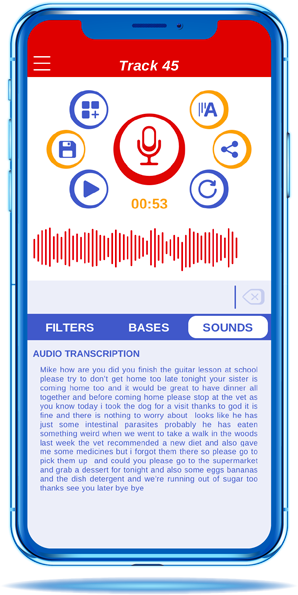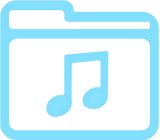 Archive
Saving the tracks in a structured archive
Do you send or receive voice notes often? Do you have the habit of using audio notes to record your ideas, commitments, your deadlines?
If that's the case, you're certainly aware of how important it is to save and manage all this information, with the utmost efficiency, speed and ease. 2REC allows you to do it better than any other app. Just one tap, one touch of a finger is enough to import any track, either taken from an external app or recorded shortly before, directly within 2REC, with the possibility of making any and all kinds of changes or additions whenever you want.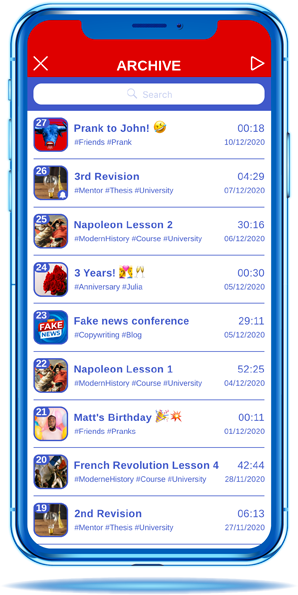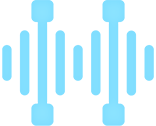 Track editor
Edit your tracks thanks to the Multifunction Editor
[N.b. This feature is available in the iOS PRO version.]
Thanks to the 2REC multifunction editor, you have total control of all tracks: you can edit any audio content in a simple, fast, practical way. The editor was developed to offer maximum freedom of action to the user: you can scroll with precision along the entire track, insert some new effects or other audio clips in any part you want, or even duplicate and delete any parts of the recording which are not of interest or needed.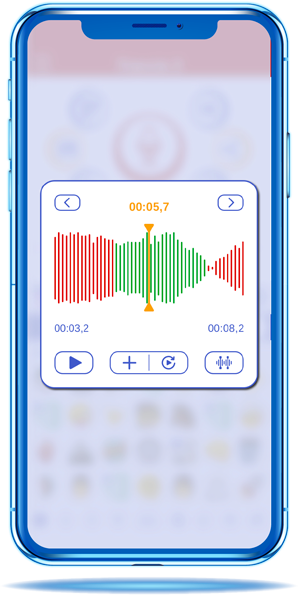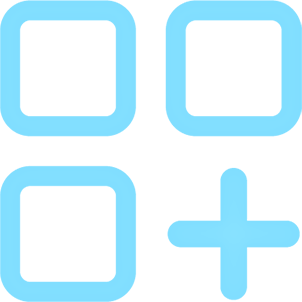 Track info
Associate all the information you want with the tracks
[N.b. This feature is available in the PRO version.]
With 2REC, you can save a voice message by associating useful information to it, such as titles, images, tags, text notes and reminders.
This feature allows for a broader scope of use for the tracks: you can combine up to 99 images for a single audio message, comment on them with a note and activate a reminder for listening to them whenever you want. You can also associate up to five tags for creating categories, and organize your content more efficiently. Additionally, all information entered automatically becomes keywords, with which you may search and filter the tracks.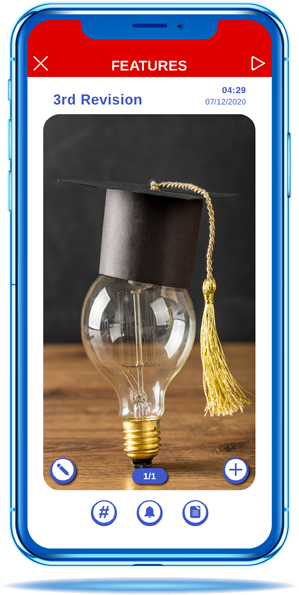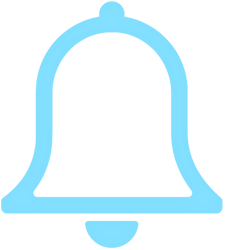 Reminder
Use the reminder for never missing anything
[N.b. This feature is available in the PRO version.]
With the reminder feature, you'll never miss anything. Indeed, it allows you to pair a reminder to audio tracks, with the date and time you prefer, so that a notification will remind you to listen to it. This way, you will never forget the notes you saved, whether it involves your shopping list, or important working deadlines. Activating a reminder is quick and easy: all you have to do is access "Track Info", select the date and time, and save it. That's it!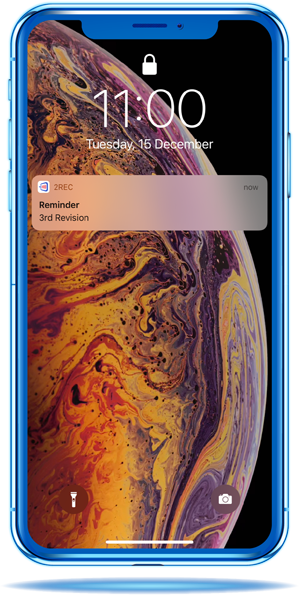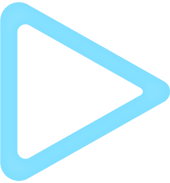 Player
Listen to saved audio notes, thanks to the Archive player
[N.b. This feature is available in the PRO version.]
2REC is equipped with a multi-track player, which allows you to create, manage, and listen to playlists directly within the app.
You can just access the section of the Archive where you saved your audio tracks, and through the search functions you may choose multiple tracks for multiple listening, creating temporary playlists. For example, you can listen in sequence to all the lessons of a course you are following, or related to a specific work project, or all the messages sent or received by a certain person.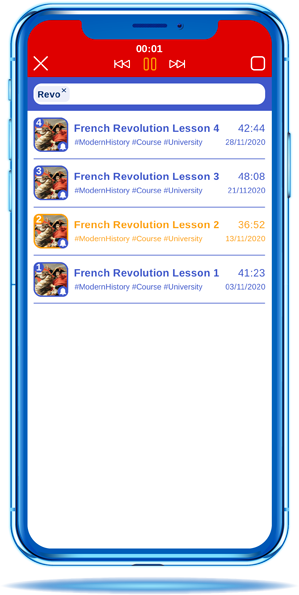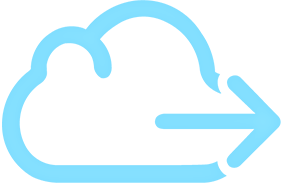 Backup
Back up your data directly to your cloud
You'd like to never lose any part of your contents, while freeing up some space on your device? With 2REC, this is very simple: all you have to do is simply upload a backup copy directly to your cloud.
The service is already available for all popular providerssuch as Box, Dropbox, Google Drive, iCloud, Microsoft One Drive and pCloud. You can start the procedure whenever needed: from "settings", select "backup", choose the service you use, login with your credentials and you will be ready to start the upload.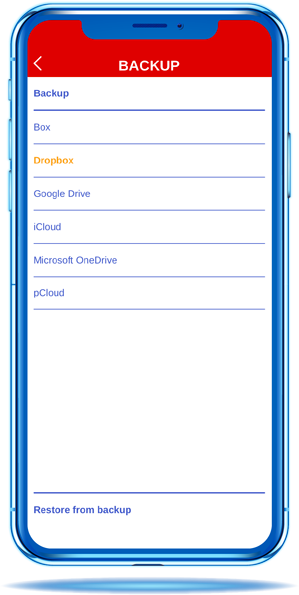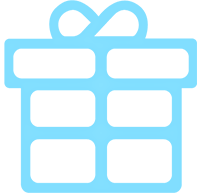 Store
Get the most out of 2REC PRO
We conceived 2REC with the specific purpose of revolutionizing the landscape of voice messages. 2REC is freely downloadable from all stores, and already with its free version, it offers hundreds of effects and all main functions. In order to further enhance its potential, we recommend activating the PRO version. With 2REC PRO, you'll get to use an unlimited Archive and an internal Audio Player, you will have access to the Track Editor and Reminder features, and you'll be able to assign tags and images to all the tracks you want.
The upgrade can be activated directly from 2REC's internal Store.

Record
Create unique and fun voice messages
With 2REC you can record voice messages by adding sound effects, such as sounds, background bases and voice-altering filters. The effects are selectable thanks to a keyboard similar to the one you already use to insert emojis in text messages. There's really everything for everyone: from funny sounds from the cartoon world, to horror ones, to sounds that express our wide range of emotions, such as joy, amazement and disappointment.
Is your girlfriend far away? Well make her feel your heart beating only for her. Your friend played a joke on you? A donkey braying is the perfect answer! Or, you may record an audio note with one of the many background bases available: they can be romantic, adventurous, musical, environmental. Or even more, you can have fun changing your voice with filters, perhaps making it sound like that of an ogre, or an alien.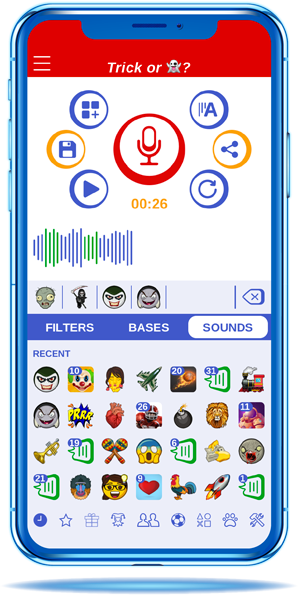 Customization
Create your own sound effects
As soon as you download your application, you'll have access to over 400 effects, available to you to fully unleash your creativity. And yet, this is only the beginning!
2REC is an actual tool for creating customized content to be used at will, in an easy and fast way. For example, you can record the joke of a comedian, or a catchphrase used by your friends, or even save your favourite song or the soundtrack of a successful film as a base. In order to create your own personal effect, all you need to do is to simply record what you want with the microphone, or import a track from an external app, then save it as "sound" or "base". Now you have some unique content ready to be used and shared!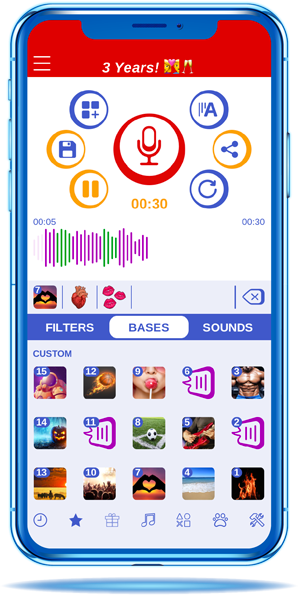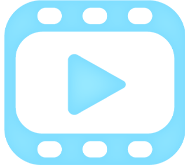 Video
You can also generate videos With 2REC
The "share as a video" function allows 2REC to create videos in slide-show mode, featuring the audio recording, and some images associated with the track scrolling as a background.
Also, if you need to generate a video but you didn't insert any specific image, by default, 2REC will link your "User photo", or if it isn't available, a funny graphic we made.
The procedure for generating is extremely simple: you just need to open the "Track Info" option, upload one or more images, tap the "Share" icon on the homepage, and voilà: your video content is ready!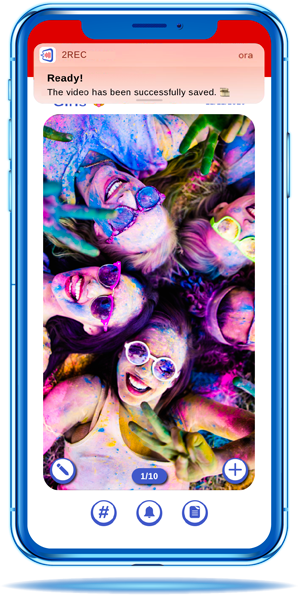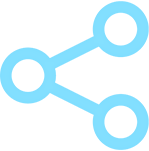 Sharing
Send your tracks in an instant
With the diffusion of instant messaging apps and social networks, communication has become one of those industries that faced some of the most profound and significant transformations. Everything has become shareable, but most importantly, instantaneous.
For 2REC, which has been designed to be a valid and convenient support for all these platforms, we immediately focused our attention on methods for sharing and their performance.
Just a few seconds and you'll be able to share your content as audio, video or 2REC file, no matter if the track lasts a few seconds or several minutes.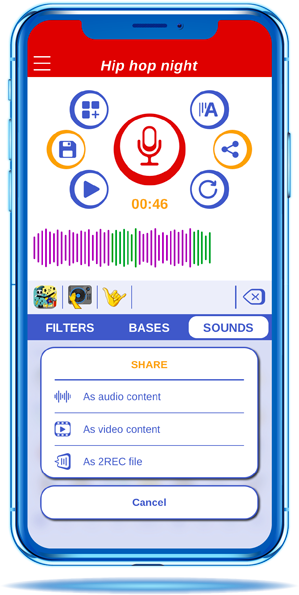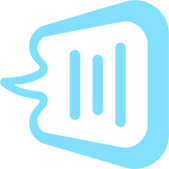 .2REC format
Proprietary 2REC format
All created content can be shared in a specific 2REC format, which allows you to send the tracks, along with all information associated with it. If you receive a .2REC file, and you have the application installed on your device, you can view it, save it and edit it in all its parts, in complete freedom. You can add effects, delete existing ones, update associated information, and much more.
Did you get a message featuring any effect you like? In just a few steps, you can save them as your content and use them immediately. Sharing with the .2REC format is really simple: just use the specific function, represented by the app's logo on the homepage.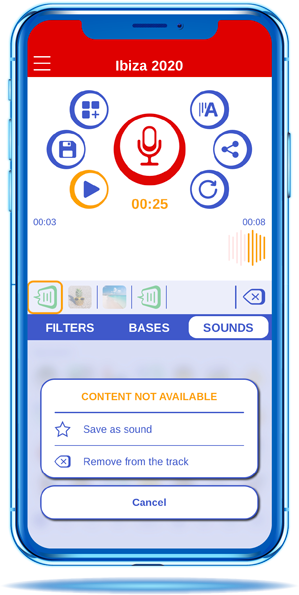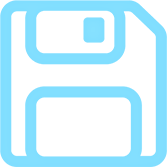 Saving the ringtone
Customize ringtones and notifications
With 2REC, even an alert or a phone call can turn into a unique and fun moment. Any content you created can easily be set as a notification or ringtone, on your device.
Do you feel like playing back the sound of fans cheering on after a goal, in your "soccer friends" group chat? Or, would you like to save the recording of a romantic song as a ringtone for your girlfriend or boyfriend's calls? You can do it with 2REC!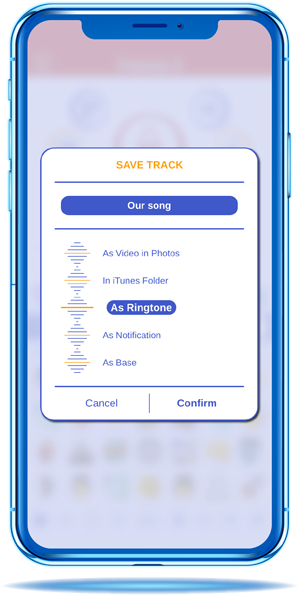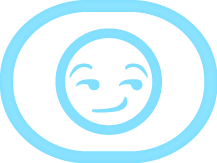 iMessage sticker
iMessage Sticker
[N.b. disponibile per sistemi iOS]
iMessage is the instant messaging application for sending text along with audio and video contents, between Apple devices.
All the emojis representing Filters, Bases and Sounds within the 2REC keyboard, were conceived and designed solely by our creative team. Among these, we chose the most original and fun ones, and transformed them into vibrant stickers, which you can share thanks to the specifical, designed iMessage extension.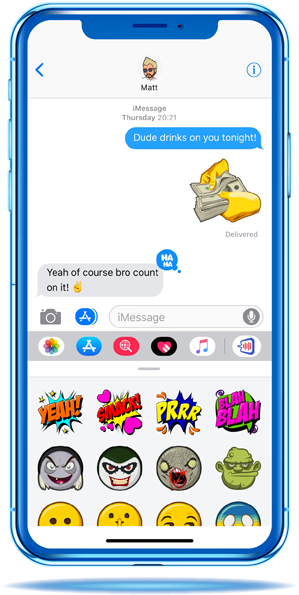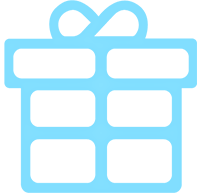 Store
Discover an in-app store full of extra content
Within 2REC, you will find an in-app store full of extra content. By accessing this Store directly from the "menu", you will find dozens of sounds and bases packages specifically created to enrich your audio messages to make them truly yours.
Every month we add new and original content for helping you express your creativity to the fullest: rock, trap, hip hop, jazz, romantic bases, scary sounds, funny expressions, shrewd jokes. Browse the Store to find the packages which intrigue you the most and preview them!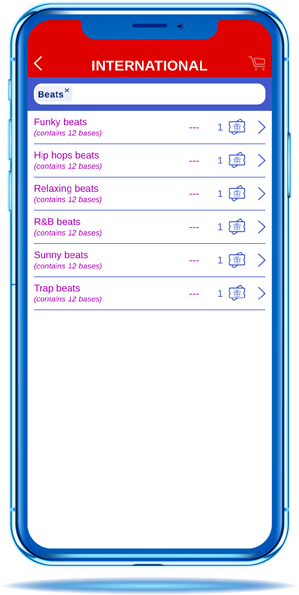 Download on the AppStore!
ABOUT US
X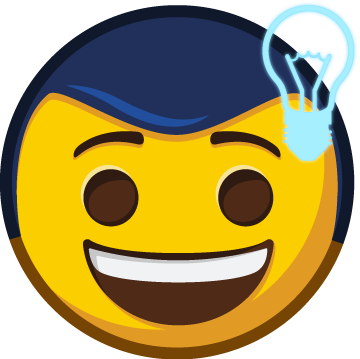 Marco Righetti
CEO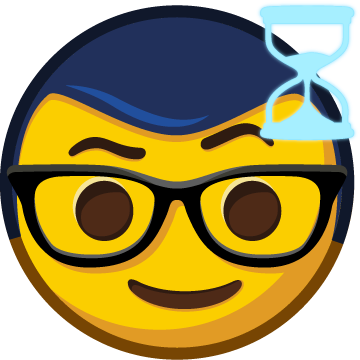 Daniele Malimpensa
Project Manager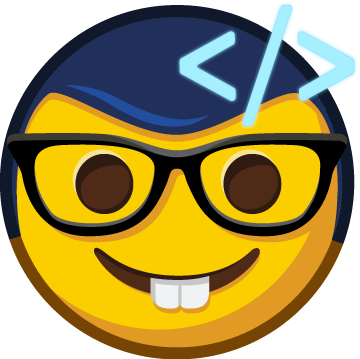 Yuri Gagliardi
Senior Developer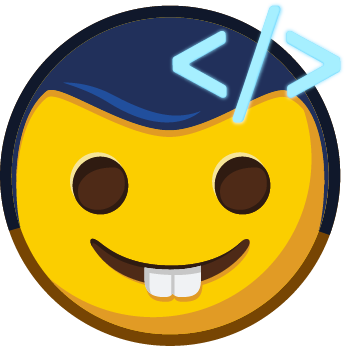 Ali Raza
Senior Developer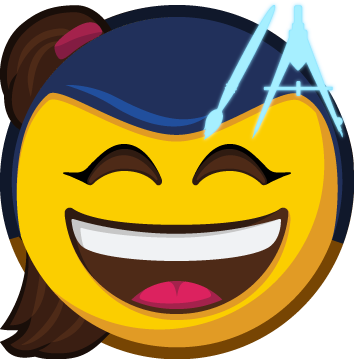 Chiara Berbenni
UI/UX Designer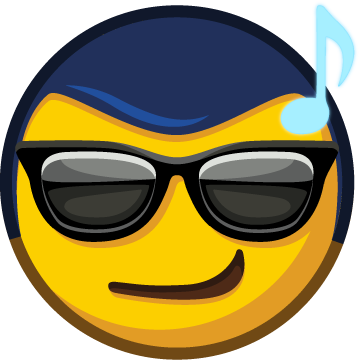 Dimitri Testi
Sound Designer
Marco Righetti
CEO
Daniele Malimpensa
Project Manager
Yuri Gagliardi
Senior Developer
Ali Raza
Senior Developer
Chiara Berbenni
UI/UX Designer
Dimitri Testi
Sound Designer
iUP is an innovative, Italian startup enterprise, active in the development of smartphone apps of its own conception and design. We officially began as a company in June 2018. However, as with many others startups, even us at iUP, sustained intense activities before the firm's constitution. Co-founders Marco (CEO) and Daniele (Project Manager) actively carried out preliminary studies on the project, analysing the reference market and building a team of professionals, subsequently playing a role in the development of the 2REC application.
2REC: THE NEW ERA OF VOICE MESSAGES
2REC is a smartphone application conceived for revolutionizing the approach to voice messages, and more generally, to evolve audio communication to the next level. This idea was born by observing the current trend of visual content: indeed, for some time now, users can count on multiple services for managing and editing images, videos and animated gifs, with numerous applications making it possible to create, customize and share such content.
Every day we scroll through our social network feeds, and we encounter what can only be defined as true visual gamification: we get to play and have fun, by creating unique, creative and surprising content. 2REC's challenge was born out of this very deficit: the mission is to introduce in the sound field the same level of customization which for some time now has been available for videos and pictures. The application offers the possibility to add voice filters, background bases (musical and/or environmental) and sounds within the recordings (one may call such additions as audio emojis). This transforms voice messages, a comfortable yet monotonous and flat means of communication, in a dynamic and brilliant action, capable of truly unleashing the user's emotional component.
2REC: A FUN AND USEFUL APP
Furthermore, 2REC is also for users employing audio notes in professional and studying-related activities.
Our goal is to provide a complete tool, capable of proving useful in everyday life: from its fast and structured track storage service, its unlimited audio-to-text conversion, to the possibility of editing the voice messages with a multifunction editor, up to its cloud backup functionalities.
2REC is an evolution and extension of instant messaging apps and social networks. Nevertheless, thanks to its innovative services, the app is capable of "completing" them, enriching the communication exchanges taking place within them.
A BIT OF HISTORY
Our registered office is located in Bolzano, while our operational headquarters are located in Lomazzo (Como), at the ComoNExT Science and Technology Park.
In 2018, we entered the "Incubatore d'Impresa" tender, promoted by the Como Chamber of Commerce and by ComoNExT, where we were named best startup enterprise, among dozens of participants.
We passed the selections for the "Global Startup Program" twice in a row, an initiative at national level of the Ministry of Economic Development.
During the first edition, in 2019, we participated in a three-month acceleration course in the Silicon Valley at the headquarters of the Plug and Play Tech Center, one of the most popular accelerator hubs in the entire world.
Next spring (2021) we will have the opportunity to experience a new period of acceleration, again in the United States, at Mind The Bridge at its headquarters in Los Angeles. The MISE again, through ICE (Agency for the Internationalization of Italian Companies), called us to represent Italian innovation in the sector at the GITEX Future Stars 2020 in Dubai, and at the prestigious CES Las Vegas 2021. Furthermore, in summer 2021 we will participate to the Mobile World Congress at Barcelona, the most important mobile technology fair in the world.